Riverbank Farm Working Dogs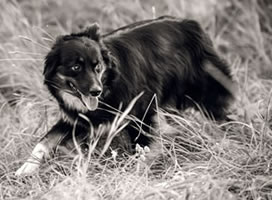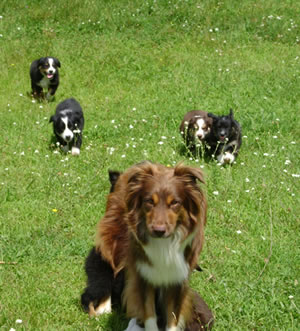 The dogs at Riverbank Farm are primarily livestock working dogs. Registered Australian Shepherds from working lines predominate, but numerous Border Collies and other breeds have been members of the farm. Most of the dogs compete in ASCA Stockdog Arena and Farm Trials. The dogs also assist in daily chores by moving livestock to pastures, loading the trailer, assisting in lessons and holding sheep for veterinary care.
The Riverbank breeding dogs are registered Australian Shepherds. These dogs have strong livestock sense and their offspring are only situated in homes where these instincts can be utilized or their brain power can be put to good use such as in Search and Rescue or other competitive dogs sports. They are not solely "companion" type dogs as they truly need to work to keep their minds sound before they can be a good companion. The parent dogs are screened for genetic health issues and their temperaments are evaluated prior to entering them into the breeding program.
All too frequently, "rescue dogs" are presented to Riverbank Farm from shelters, rescue organizations or owners that need to rehome dogs with working instincts. These dogs have failed as "pets" and need opportunities to use their instincts and learn to respect humans. The rescue dogs are carefully evaluated and fostered at the farm until they can be transitioned to an appropriate home.
Two planned litters for 2018:

Spring: Riverbank's Right Hand Man (Lefty) bred to Riverbank's Red Hot Tamale (Molly)


This will be a line bred litter with a COI of 16, but both potential parents are clear on genetic tests and the intention is to combine the work ethics of both parents while preserving some of the older Aussie genetics from "Molly's" sire.

Summer: Riverbank's Right Hand Man (Lefty) bred to Winslide's Margaritaville (Rita)

This will be a repeat breeding because their first litter, born 9/12/16, have developed into very nice working dogs with solid work ethics and temperaments.

Reservations are being taken for both litters.

If interested, please send in a contact form.

Winslide's Margaritaville and
Riverbank's Right Hand Man

Resident Farm dogs:

Riverbank' ASCA WTCHs: