Welcome to Riverbank Farm!
Riverbank Farm has been developing since 1998. Dr. Matt Mason, a mixed animal veterinarian, owns and manages the farm secondary to his passion for a variety of animals and educating people. Over the years, Riverbank Farm has become a stockdog training facility producing cattle, sheep, goats, waterfowl and guard llamas. The farm livestock is raised for use during lessons, registered breeding stock as well as for meat and fiber products.
Polo, Propwash Marco Polo, was Matt's first Australian Shepherd and he is credited with a lot. Although Polo did not have herding instincts, he was a devoted companion and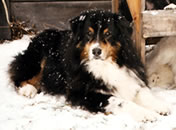 endured a lot of long days and nights through veterinary school. He was levelheaded and accepted the presence of many canine housemates. He always established that he was to be respected but treated the "rehoming projects" fairly to allow them time to adjust to a new way of living at Riverbank Farm. Polo became a standard for which Matt has never found another dog to match. His individuality impressed upon Matt that every dog/handler relationship is unique and Matt works to develop good relationships between handlers and their dogs during lessons while teaching livestock handling skills at the farm.